New Delhi: Arjun Kapoor and Malaika Arora have since confirmed their relationship, both of them share a glimpse of their life with fans. Now the couple also shared lovey DWI photos together on Valentine's occasion. Fans were also delighted to see these lovely and romantic pictures of her. Arjun Kapoor and Malaika Arora spent quality time with each other on Valentine's day. Malaika Arora shared an image of herself and Arjun Kapoor.
In this picture, Arjun and Malaika are seen hugging each other. Arjun Kapoor is also seen kissing Malaika Arora on the forehead. At the same time, Malaika captioned the image – mine. The image was liked by many stars including Twinkle Khanna, Maheep Kapoor, Bhavna Pandey, Saba Khan. While Malaika Arora stylised Arjun Kapoor, Arjun Kapoor did not hesitate to troll her in a funny way.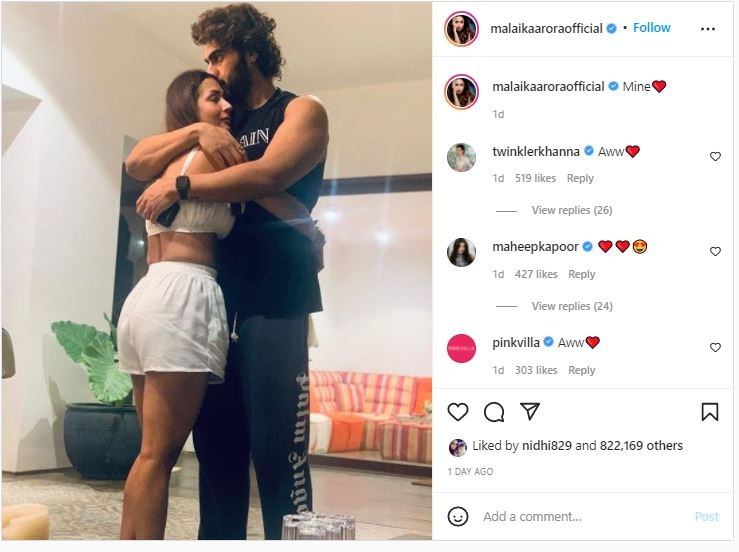 Malaika Arora shared the image on Valentine's day.(Photo Credit: malaikaaroraofficial / instagram)
Arjun Kapoor said, ' I sent you a picture and you posted before me. Malaika Arora replied to Arjun Kapoor and wrote, 'guilty'. The image of him and the people on Instagram are enjoying a lot. Ghost police actor Arjun Kapoor also wrote a romantic post for his lady love on the occasion of Valentine's day. Here you can also see Arjun Kapoor's post in the picture.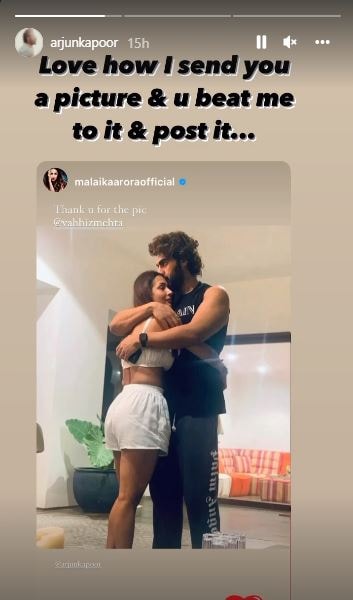 Arjun Kapoor responded to some of Yoon Malaika's posts. (Photo Credits:
arjunkapoor/instagram)
In this picture, Malaika and Arjun Kapoor are seen twinning in a black dress. The picture has got many likes so far. Last month, Arjun Kapoor reacted to the news of Malaika Arora and her break up through a post. He had put an end to the rumours in his own style.
He shared a picture of himself and Malaika Arora and wrote – There is no place for bad rumors. Good luck to you guys and lots of love.'