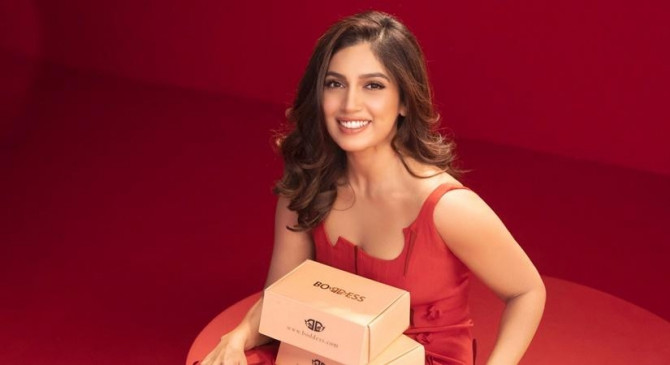 Digital Desk, New Delhi. The time spent in front of the mirror for Bollywood actor Bhumi Pednekar is no less than a medical one. Bhumi, a champion of overall beauty, says she is very enthusiastic about beauty and takes good care of herself.
Bhumi has joined Bodes.com, a multi-beauty technology platform, as its first brand ambassador and beauty associate. The retailer wishes to change the way people discover beauty. The platform is inspired by the woman's strong sense of womanhood and aims to gain a significant stake in the beauty industry in India with its skin care, well-being, makeup and beauty products.
IANS Life spoke to Bhumi:
Question: Tell us about your relationship with beauty.
Answer: Everyone knows that I am a very big beauty enthusiast. Especially in lockdown and over the last two years, communication about my love for makeup and skincare has been quite strong. Over the years, I have felt that beauty is holistic, being in a state of happiness of the mind, feeling strong and having fun. I think that's exactly what Bodes does, it's a new-age contemporary platform. He has a lot to offer. It is high on technology. I enjoyed reaching their stage. What I like about the brand is that they believe that like me, a woman has many aspects, all of which should be celebrated, yet one needs to maintain one's personality. That's what I've tried to do with my work.
Q: Can you talk about inclusivity in the beauty sector?
Ans. Today, every aspect of our society has to be inclusive. It is about loving yourself, about body positivity, about self-acceptance. Inclusiveness begins with self-acceptance. The moment you appreciate everything you're born with, you get out of social structures and conditioning yourself. You become a role model for people to see. People who look like you and feel like you, when they see their story, feel connected to them. This is the revolution that the beauty industry has gone through. I feel very lucky that I am a working actress at such a time and my job is to believe in the brand I am associated with.
Question: Do you believe that the epidemic has changed skincare and makeup beauty, on a large scale, in any way?
Answer: 100 percent. I think people with lockdowns had enough time to pamper themselves. I know that within my ecosystem, my mother and my aunt, they were taking care of themselves. There were a lot of lifestyle changes – fitness, beauty, skin care. Digharu comes only with an overall lifestyle, internal and external options. People today have started making such efforts to take care of themselves and stay physically fit.
Q: Do you expect to see any trends in beauty?
Answer: I think beauty is very diverse right now. Season by season there are many trends but many women who celebrate themselves have got a unique voice. I think trends today are so subjective. Some women prefer to wear dark lips with dark eye every day. That's their choice. I don't believe in trends so much.
Q: Can you share a glimpse of your beauty routine?
Ans. My beauty routine begins with drinking plenty of water, eating clean food, praising yourself once or twice a day. Also I clean the tone and moisturize every day. Before going to bed, I make sure all the makeup is completely removed from my face. I think a good moisturizing schedule is extremely important for your skin. I know a lot of people who just wash their faces and go to bed. Which is wrong! I use sunscreen every day.
As far as my makeup is concerned, I really like to wear makeup every day. It is not because of my profession, but because of me. The time I spend in front of my mirror is very therapeutic for me. One day, I just wear concealer, mascara, lipstick, mascara. I like using skin colours, balms. I make multiple use of products all the time. I use my lipstick like a blush.
Q: Any beauty secrets?
Ans. My mother sometimes uses curd on my hair as a mask. I don't know if it's something unique to us, but it's something we've been doing for a long time. My grandmother did the same to my mother.
(IANS)