TV's popular show 'Bigg Boss 15' (Bigg Boss 15) is scheduled to go on air from the 2nd of next month. All preparations for the show have been completed. But there has been a lot of privacy about its contestants. There have been rumours of many TV celebs joining it. One of these names includes the name of popular TV actress Tina Dutta. Her name is associated with the Bigg Boss season every year but she dismisses them as rumours. His name was also coming up this season of Bigg Boss. Recently he rejected it too.
Now Tina Dutta (Tina Dutta) has shared a post herself. After which she is believed to have become a confirmed contestant of Bigg Boss 15. Tina Dutta shared the cover page of a magazine on her Instagram account. The title of this magazine is written as 'Bigg Boss'. It has a glamorous photo cover photo of Tina Dutta. Tina also wrote a coat on it and it was also reported that the new season of Bigg Boss begins on October 2.
Tina's caption read, 'You and I like playing Hide and Sea, My Love." It reads below, "Salman Khan will be seen in the jungle in the latest season of Bigg Boss.".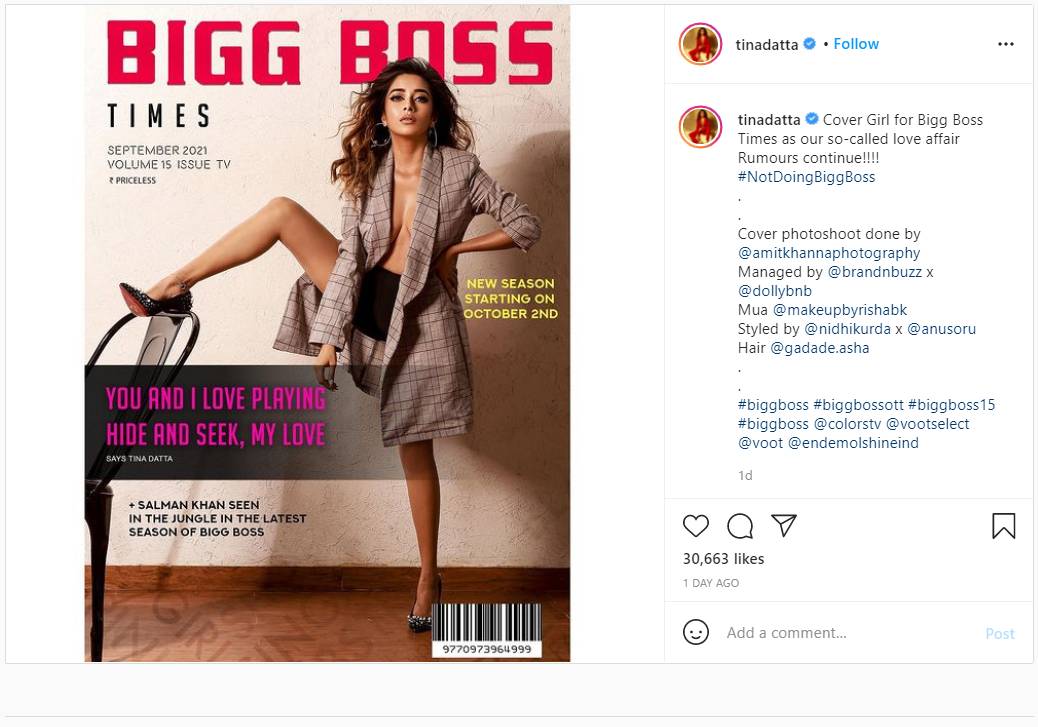 Tina Dutta shared the cover page of this magazine and wrote, "The cover girl of Bigg Boss Times will continue to be rumoured to have an alleged love affair..!!" Tina further wrote the hashtag 'Not Doing Bigg Boss'. That is, she is not doing Bigg Boss. This post by Tina Dutta has again put people in confusion. Well, it'll be known in the near future whether Tina makes an entry this season or not.
The names of many celebs who could be its potential contestants also surfaced. However, the first confirmed contestant on the show is Pratik Sahajpal, who exits the top five race with a briefcase in Bigg Boss OTT (Bigg Boss OTT). The briefcase had a direct entry ticket in Bigg Boss 15. 'Bigg Boss 15' (Bigg Boss 15 Premier) will premiere on October 2. The show will go on air on Colors on Monday-Friday at 10:30 pm and on weekends at 9:30 pm.