Hiccups and Hookups Web Series review 2022- Hiccups and Hookups Web Series review: Pratik Babbar and Lara Dutta's funny comedy-chemistry will win hearts
Lara Dutta and Pratik Babbar have become siblings in the series.
Hiccups and Hookups review: this is the story of a 39-year-old single mother Vasudha Rao (Lara Dutta) who lives in Bengaluru with her teenage daughter kavanya Khattar (shinova) and younger brother Akhil Rao
Release Date

26 November 2021

Genre

Drama, Family, Romance

Director

Kunal Kohli

Episodes8
Cast

Lara Dutta, Prateik Babbar, Shinnova
Hikcups and Hookups Review: Bollywood stars are entering the web world these days. Stars like Ravina Tandon, Ajay Devgn, Madhuri Dixit are waiting for fans to step into the web world. But this Friday, Bollywood actress Lara Dutta and Prateik Babbbar will be seen in her new web series 'Hiccups and Hookups'. The 7-episode web series is released today on Lionsgate play.
Story: this is the story of Vasudha Rao (Lara Dutta), a 39-year-old single mother in Bengaluru who lives with her teenage daughter kavanya Khattar (shinova) and younger brother Akhil Rao (Pratik Babbar). Akhil is afraid of commitments and believes in casual relationships. The series showcases the world of sexual life and relationships of the three. Vasudha, recently divorced at the age of 39 after being cheated on by her husband, comes to the dating app 'ketchup'. This app has been created by Akhil himself. At the instigation of her brother and friend Fatima (Meera Chopra), Vasudha uses this dating app for casual sex and many adventures begin in her life. On the other hand, Vasudha's teenage daughter is also confused about her dating life and wants a pause in all life. This web series is a funny story of all these relationships.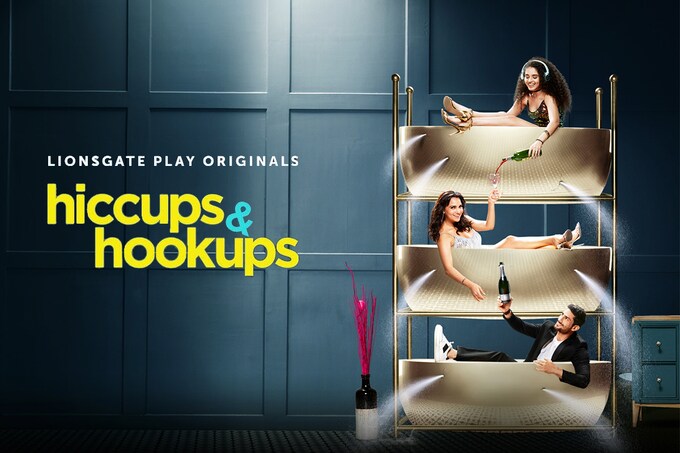 Director Kunal Kohli, who has previously brought touching love stories like' Hum Tum 'and' funah', has brought a new-age funny drama to the web world. There is not much rule on the content of the internet, so you get to see a lot of web shows ranging from obscene language to forced intimate sex scenes. But the best part of this web series is that there is no forced sex scene in the series that mentions 'hookups' in its title. Rather, most of the scenes seem to support the story and the entire plot, and director Kunal Kohli should be praised for this. This story, woven around relationships and casual sex, seems to be something new on the subject.
The web series has been released on Lionsgate play.
In fact, it is in the title of the series that this family is 'no filter ' and you can also say that by watching the show. In one scene, kavanya is in the house room with her boyfriend and her maternal uncle Akhil and mother Vasudha are going out of the house on their dates. You can only guess from this scene how modern and different this family is. There are many funny scenes that will make you laugh.
The story is about the fun chemistry and cool relationship between Lara Dutta and Pratik Babbar. Both of them are brothers and sisters but also each other's besties. Lara is about 40 years old in the role of the modern lady and you will be able to relate to her troubles. The work of Pratik Babbar is also fun and whenever Lara-Pratik appears on the screen, you will definitely enjoy it.
It's a modern-time comedy drama, so in some places you might think, 'Where does this happen, these are more modern…'. The story is expected in some place. Yet, it's a funny comedy series and you should definitely watch it on the weekend. 3.5 stars to this web series from my side.