Trailer of Kartik Aaryan starrer "Dhamaka" released, playing news anchor in the film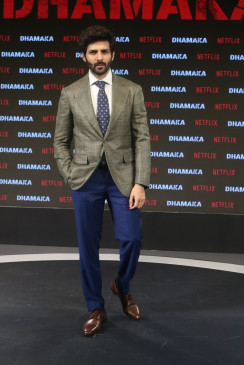 Digital Desk, Mumbai. Filmmaker Ram Madhavani who directed Neerja and 2020 Disney Plus Hotstar Special Arya is back with another fascinating story. Kartik Aaryan starrer Dhamaka is his latest offer and its trailer was officially released here on Tuesday.
The film stars Kartik as Arjun Pathak, a news anchor and caught up in a game of uncertainty, deceit and mind after a phone call by a terrorist, who tells him about an attack that could wreak havoc across the city. He initially dismisses the call as a prank, but soon realises the gravity of the situation when terrorists blow up a bridge.
Arjun gets ready to report the progress of the terrorist and fulfill his whims and hobbies to get his career back on track. He is not aware of how he is being played with and what will happen to him. Full of nervous and mind-boggling moments, the blast trailer offers a glimpse into the roller-coaster world of a news room where emotions move at a high speed and the ability to think and act at lightning speed is a necessity.
Four production companies from around the world, RSVP Movies, Ram Madhavani Films, Lotte Entertainment and Global Gate Entertainment have joined in to put together an explosive mix of an exciting story that made the explosion. The film also stars Mrinal Thakur and Amrita Subhash and is all set to release on streaming platform Netflix.