Khesari lal yadav And Amrapali dubey Film Aashiqui first poster Release Raya
Bhojpuri trending star Khesari Lal Yadav (khesari lal yadav) will now be seen romancing YouTube queen Amrapali Dubey (Amrapali Dubey) onscreen after Kajal Raghavani (Kajal Raghwani). The duo will be seen in the much talked about film 'Aashiqui' (aashiqui). Its first look has now been released. Its first poster was launched during the shooting of one of its songs at a newly constructed beautiful studio located in rural Raita.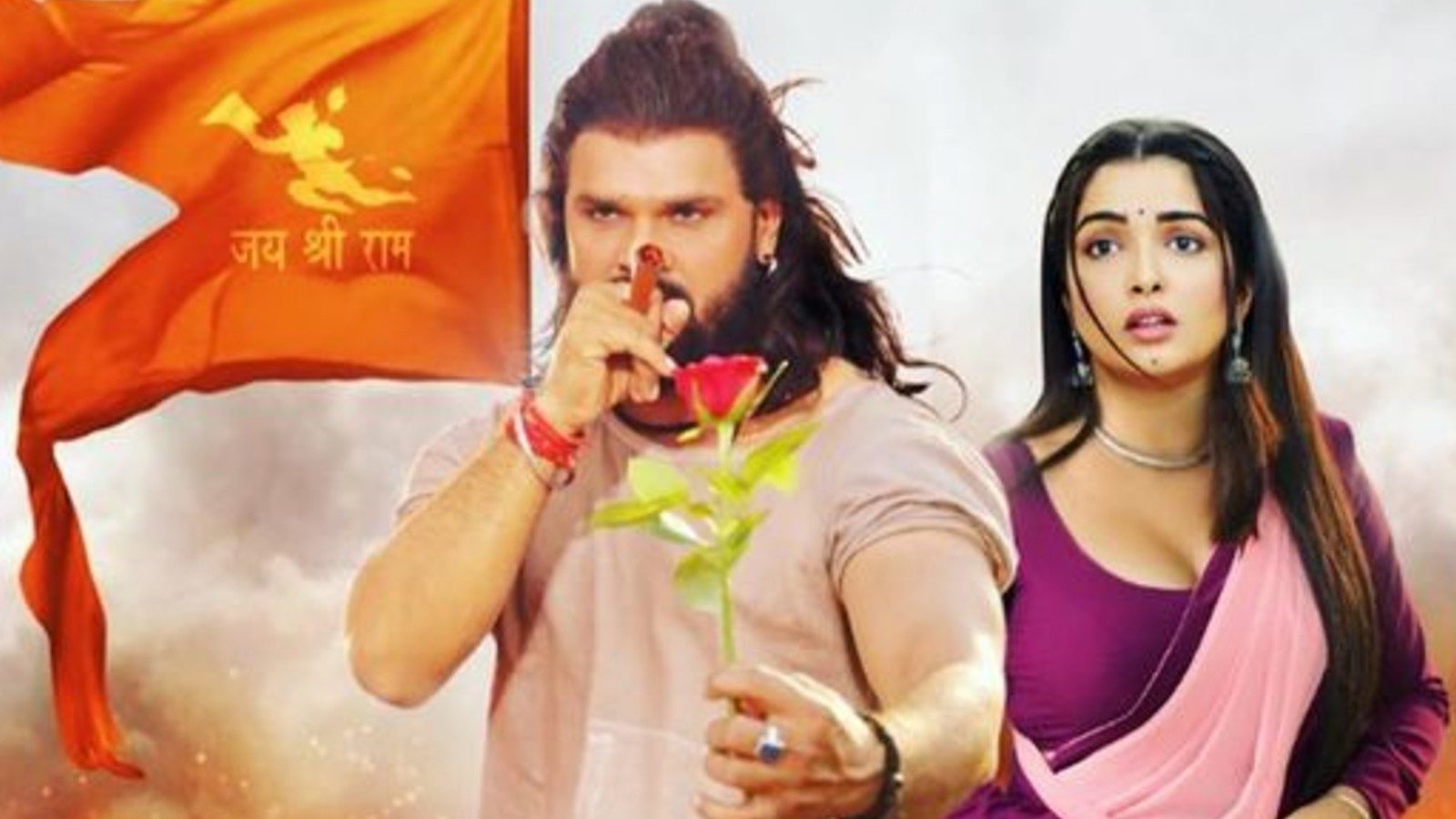 Khesari and Amrapali Dubey's (Amrapali Dubey Films) 'Aashiqui' poster was also present on the occasion, its producer Pradeep K Sharma, Music Company RDC Bhojpuri's Durgadas Chaudhary, Marketing Head Vijay Yadav, Deepak Ruia and actor Pappu Yadav were also present. The poster was also shared by the actress on her Instagram account. The poster shows Khesari blowing roses in red hands and chillum in big hair. The highlight of his poster is that a saffron flag with Jai Shri Ram written on it is also hoisted. In response to sharing the first look, the actress also captioned it, 'Another Aashiqui, please note- No smoking has been promoted in the film. Smoking is harmful to health.'
The posters of Amrapali and Khesari (Khesari lal and Amrapali dubey) are getting a lot of love from fans. The poster has increased the excitement for its release. There have been many revelations about the film as soon as its first look is launched. Khesari Lal himself explained that 'Aashiqui' is a pure love story that begins to die due to casteism, but to find his love, he does it that becomes an example.' The film will see Amrapali Dubey opposite Khesari Lal for the first time. Talking about this number one actor in bhojpuri film industry, Khesari Lal said, 'He did some songs with him, but working with him for the first time showed that he had amazing acting abilities.'
Producer Pradeep K Sharma whose last film 'Litty Chokha' is making a splash at the box office. Khesari openly admitted that 'Aashiqui' has become a much better film than 'Litty Chokha'. The trailer launch of the film was also announced on the occasion. He explained that the trailer of the film will be released on Entertainment Rangeela on October 24. Let me tell you that the director of the film is Parag Patil, who has given many successful films, co-producers Anita Sharma and Padma Singh. The film was produced by Baba Motion Picture Pvt. Ltd. is under the banner of. Who has earlier given successful films like 'Damru', 'Litty Chokha' with Khesari Lal and a film 'Sabka Baap Thumb Impression' is under construction and the next film 'Vidhata' will go on floors soon.
Most interestingly, the story of 'Aashiqui' has been written by Khesari Lal Yadav himself while the script dialogue is written by Rakesh Tripathi. The film is composed by Om Jha and Arya Sharma while the lyricists are late Shyam Dehati and Vijay Chauhan. The cinematography of the film is done by RR Prince while the marketing head is Vijay Yadav. 'Aashiqui' stars Khesari Lal Yadav and Amrapali Dubey along with Shruti Rao, Mahanayak Kunal Singh, Padma Singh, Prakash Jais, Subodh Seth, Pappu Yadav among others.