Pawan Singh and Smriti Sinha's Bhojpuri Song 'sari se Todi' is trending on number one
The Bhojpuri cinema duo Smriti Sinha and Powerstar Pawan Singh are in the spotlight nowadays. Smriti Sinha is working back to back with Pawan Singh-Smrity Sinha Song. The chemistry and jugalbandi of the two is mesmerizing the audience. In the past, the duo's song 'Saree Se tadi ' was released, which today remains the first choice of people and is trending on YouTube. The song has been viewed over 6 million times in just 10 days.
Let us tell you that since Smriti Sinha has made a comeback with Pawan Singh in the Bhojpuri industry, her songs are going viral. The duo of these two stars had appeared in the Holi song 'white white lehenga' of Shubh Labh films after a long time, in which the changed style of Smriti was very liked by the audience. The second music video of Holi 'Falana Bo Farar Bhaili ' has been released from Pawan Singh's official YouTube channel. It went trending number one as soon as it was released. Until a week after Holi, number one was in trending. This song made history.
After these three songs, now their duo is ready to rock the big screen once again. Yes, Pawan Singh and Smrity Sinha will soon be seen in two films being made under the banner of Yashi Films, which is shot in London and some are scheduled to take place in Mumbai. Smriti Sinha is busy shooting the film 'Har Har Gange' under the direction of Chandan Upadhyay these days. The movie is currently being shot at several locations in Varanasi.
Sources say the story of Pawan Singh and Smriti Sinha starrer is inspired by Prime Minister Narendra Modi's Clean Ganga Campaign. Actress Smriti Sinha says that it is a matter of great pride for me to be a part of a project like the film 'Har Har Gange'. Nowadays, stories based on content are also being told in Bhojpuri cinema, this is one such cinema. Pawan Singh's role will be a surprise package for his fans in this film, while Smriti is also very excited about her character. In addition to being entertaining, the film also offers an important message.'
Pawan Singh's song 'sari se Todi' is making a splash on YouTube, is trending at number one
Pawan Singh song Saree Se Taadi: Bhojpuri singer and actor Pawan Singh's songs go viral with the release. Pawan Singh's new song sari toadi is trending at number one on YouTube a few days after its release. See the song of Pawan Singh.
HighLight
Pawan Singh's song Saree toadi is the number one trend on YouTube.The song has gained more than nine million views on YouTube.Smriti Sinha is seen with Pawan Singh in the song.
Pawan Singh Bhojpuri Song Saadi Se Taadi.In the storm of Power Star Pawan Singh, all the dhurandhars of the Bhojpuri music industry have been left behind. Pawan Singh and Smriti Sinha starrer song 'Sadi mein Todi'  is a new record and occupies Number One continuously on YouTube. This song by Pawan Singh has received eight million views in just two days. At the same time, it is also trending at No. 1 on YouTube.
We're talking Ka, which has proven to be a record breaking song. With this song, Pawan Singh is looking to break the record of his own second song. Even on social media, the craze of this song is so much that people are also making reels on it. After this success, Pawan Singh said, ' I say every time and believe with my heart that the people are my God. Thank you for all the love they give to this song. This is your own song. The credit for its success goes to the public itself.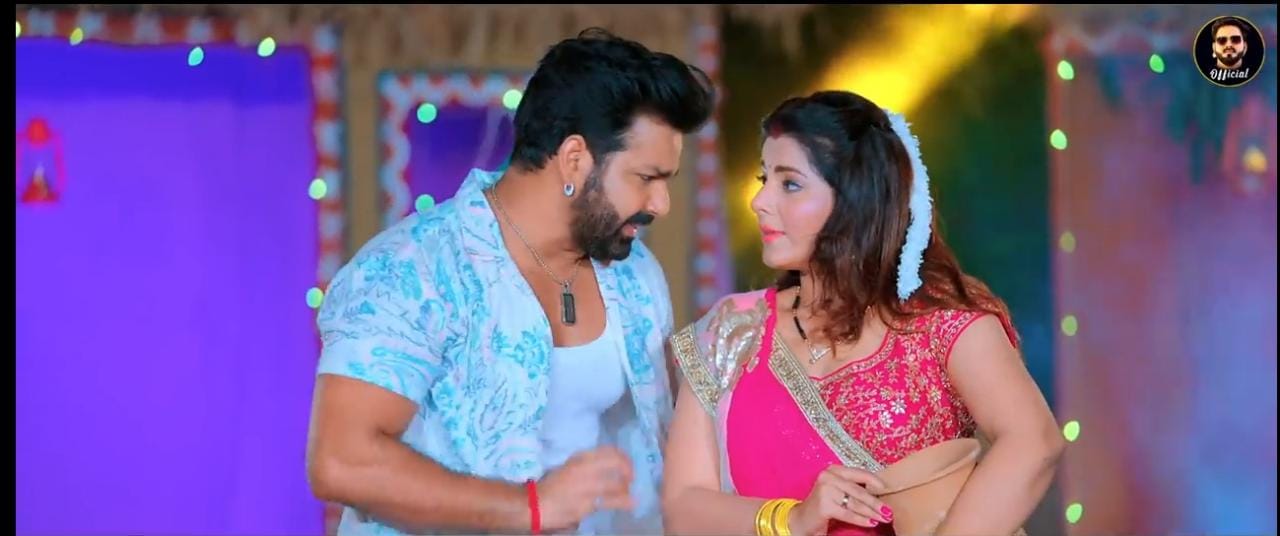 Shilpi Raj gave a voice
The lyrics of Pawan Singh's song 'sari se Todi' are written by Vijay Chauhan. At the same time, music is from Arya Sharma. The video director is Goldie Jaiswal. The song is choreographed by Bobby Jackson. Pawan Singh has released this song on his YouTube channel Pawan Singh official. The wind has also given his voice to the song. Shilpi Raj has accompanied Pawan Singh in the voice. At the same time, the great acting of Smriti Sinha in the song is seen in this song.
Talking about Pawan Singh's Workfront, he will be seen in films like Mera Bharat Mahan, Pyari Chandini, kaise ho Jala Pyar, saat Maheria very soon. At the same time, fans are also waiting for his upcoming music video after Saari toadi.