Mumbai: coronavirus cases have started increasing rapidly across the country once again. The World Health Organization has already alerted about the Omicron variant of Corona, which has alerted the central and state governments. In B-town too, many stars have been hit by the pandemic so far. Stars like Arjun Kapoor, Riya Kapoor, Nora Fatehi, Shilpa Shirodkar have been hit by Corona. Ranvir Shorey also shared the news of his 10-year-old son Aaron being coronavirus positive.
Ranveer Shourie had reported on Twitter that his son was corona positive and now the actor has told what kind of problems he faced after giving information about the news. The actor has told about a strange incident that happened to him on Twitter.
Ranveer informed about the incident with him and wrote- ' My son Aaron went on a Goa vacation and before returning to Mumbai, he has turned out to be covid-positive in the RT-PCR test. We are both quarantined until the next investigation. The wave is real.'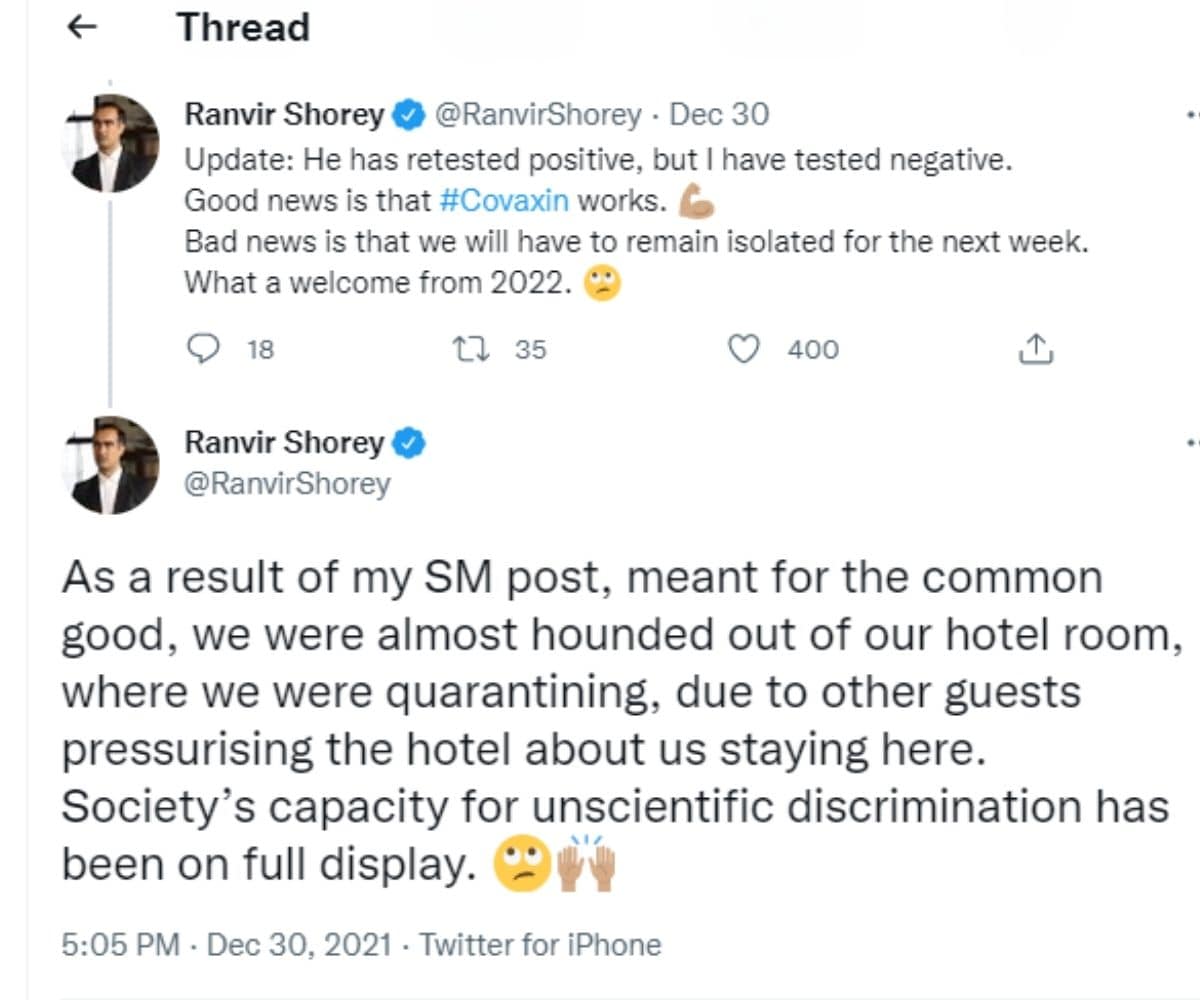 Ranveer Shourie's post (Photo Courtesy: Twitter@anvirshorey)
Following the tweet, the actor explains what happened at the hotel with Ranveer Shourie: 'as a result of my post shared on social media with people's safety in mind, we were almost excluded from our hotel room, where we were quarantined, and the hotel was pressured to take us out by others staying at the hotel. Headless-foot discrimination is at its high level.'
Actually, Ranveer Shourie went on a Goa trip with his son Aaron. Aaron became Corona positive during the trip. The actor shared this information on social media and this became a problem for him. Because, as soon as Ranveer told this, all the people staying at the hotel started to pressure the hotel management to take Ranveer and his son out of the hotel.