Upcoming Web Series & Films: Aranyak will be in front of 'Arya 2' this week, see the full list of web series and movies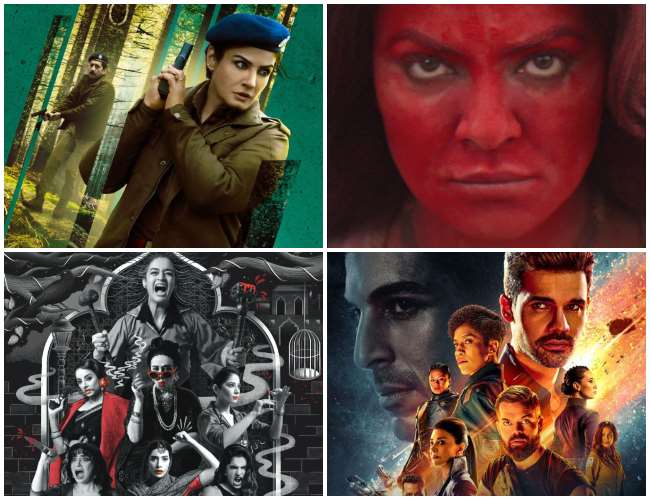 The Upcoming Web Series Films will be showcasing interesting content from cinemas to OTT platforms on December 10. These include Sushmita Sen's well-known series Arya 2 and Aranyak starring Ravina Tandon. Here is the complete list-
New Delhi, jnn. Chandigarh KARE Aashiqui and Valley are releasing in cinemas this Friday. Ayushman Khurana and Vani Kapoor will be seen on the big screen for the first time in Chandigarh KARE Aashiqui. At the same time, Sunny Deol's son Karan Deol is in the lead role in Valle. In addition to these two films, there are many interesting web series coming out this week on the OTT platform. On December 10, interesting content will be streamed from cinemas to OTT platforms. These include Sushmita Sen's well-known series Arya 2 and Aranyak starring Ravina Tandon. Here is the complete list-
8 December
The third season of the superhero series Titans is being streamed on Netflix on December 8th. In the third season, Titans Dick Grayson, Corey Anders, Gar Logan, Connor, Don Granger and Hank Hall go to Gotham City, where former team member Jason Todd was murdered.
10 December
Aranyak will be released on Netflix. With this web series, Bollywood actress Raveena Tandon is making an OTT debut. In the mystery-thriller series, Ravina is in the role of police officer and is seen solving a rehash case. The story of Vinay vaikul directed series is set in the hilly area of Sirona, where Ravina's character is Kasturi Dogra SHO. Ashutosh Rana, Zakir Hussain and Meghna Malik will also be featured in the series.
Arya 2 is coming to Disney Plus Hotstar to compete with Aranyak. The second season of the most successful crime series Arya is being released on the platform on December 10. Sushmita Sen appears in the title character in this web series. The Ram Madhwani directed series is a story of a wife and mother fighting their own family and other enemies.
The sixth season of Amazon Prime Video's popular science fiction series The Expanse is being streamed on December 10. Its first season came in 2015. This is a futuristic web series, showing that humans settle in colonies present in the solar system.
The new web series under his Zindagi original on OTT platform G5 will be streamed on December 10. The killer Haseena is an anthology web series made in the desi noir genre, which features stories from the perspective of female characters. The series is directed by British-Indian director Minu Gaur. The series will feature actors such as Sanam Saeed, Sarvat Gilani, Samia Mumtaz, Faiza Gilani, Beo Rana Zafar, Iman Suleiman, Salim Maraj, Ahsan Khan, Osman Khalid Butt and Shahriyar Munawwar.
In addition to these, weekly episodes of Amazon Prime Video's popular web series The Wheel of time, Disney Plus Hotstar's Marvel series Hawk Eye will also be available this week.