VIDEO: Priyanka Chopra holds a party for her manager in desi style, bhangra with husband Nick Jonas
Priyanka Chopra celebrated her manager Anjula Acharya's birthday in Los Angeles in a very desi style. Priyanka herself surprised her manager by hosting this party at her home. Several photos and videos of the party are circulating on social media, where Priyanka is seen doing bhangra on a drum with her manager and husband Nick Jonas.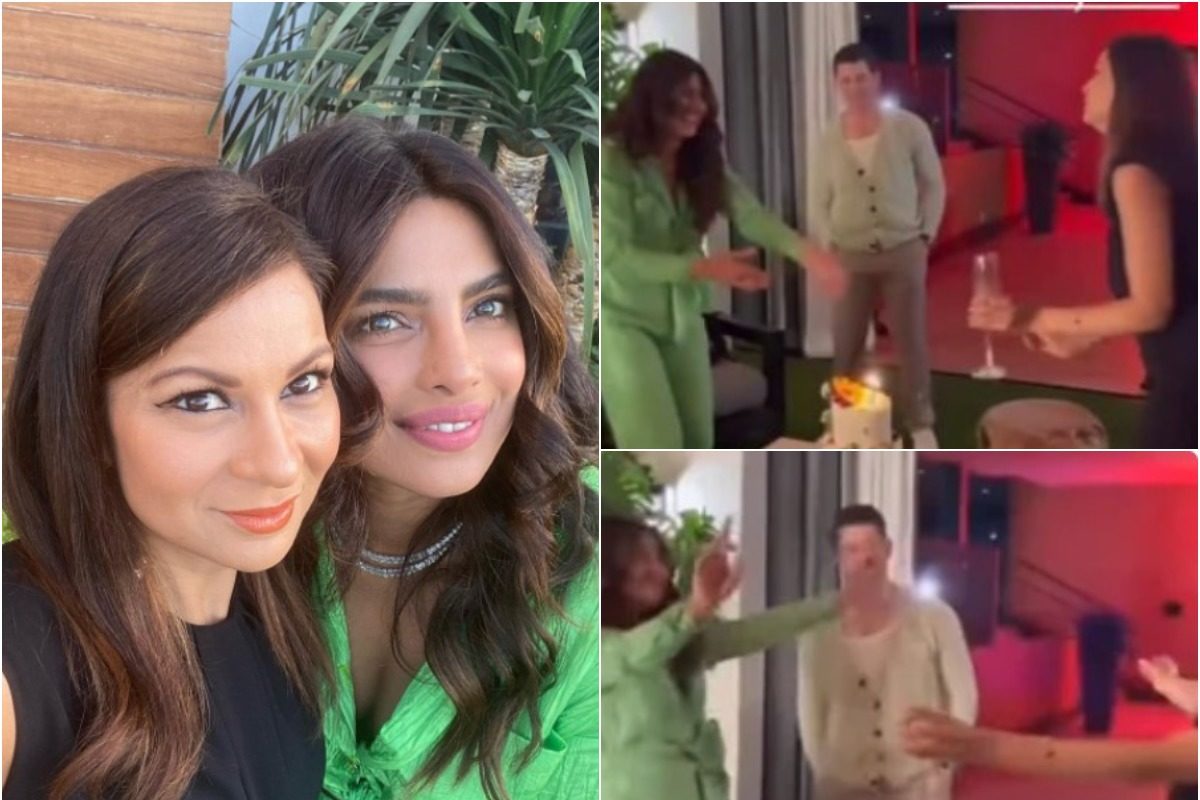 The desi girl also shared a photo on her Instagram story congratulating her manager on his birthday. Along with this, several photos and videos of Anjula's birthday bash have been shared on Priyanka-Nick's fan club 'Jerry x Mimi' Instagram account. It has now gone viral on all social media platforms.
Happy with Priyanka's surprise, her manager shared an emotional post and thanked her for all this.
Priyanka looks cool in green jumpsuit
At the birthday bash, Priyanka is seen in a green jumpsuit, while her manager is seen in a black short dress. Nick Jonas in an olive green jacket and grey pants look as good as ever. In a video, Priyanka is seen bringing herself a cake while giving a surprise to her manager. The video can be heard ringing in the background. In the video, Priyanka looks very happy doing bhangra with the birthday girl and Nick.
Fun with girl gang
In another video, Priyanka is seen having dinner with her manager and husband Nick Jonas. Apart from this, she can be seen clicking photos and having fun with her girlgang. Let us tell you that Priyanka's manager has also shared some videos and photos of the party on her Instagram and said Thank you to the desi girl.
Manager Anjula wrote an emotional note
Priyanka's manager Anjula shared a picture with Priyanka on Instagram and wrote in the caption, " Can't thank Priyanka enough for this fantastic party. She tagged another post with Nick Jonas as well as Priyanka and wrote, " Best birthday thank you."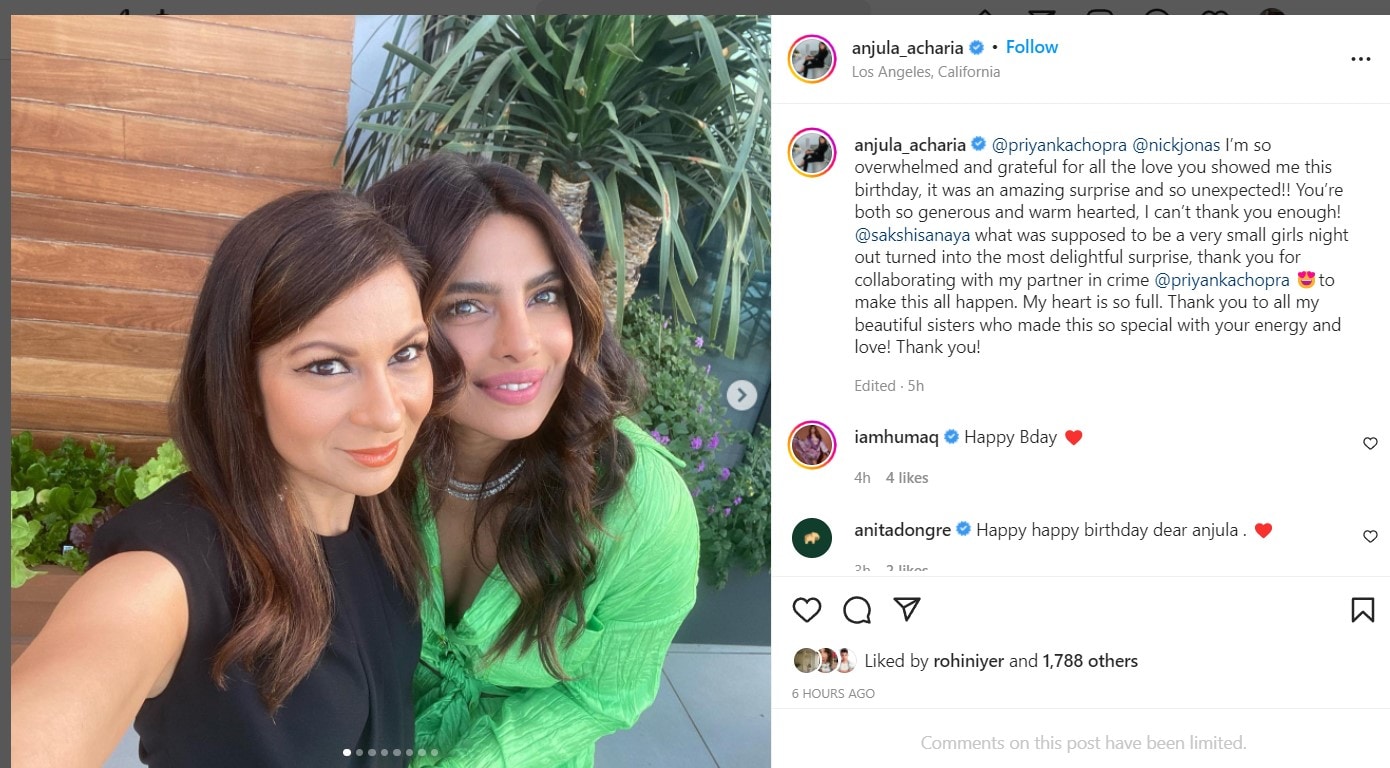 Anjula Acharia ' in tagram po t
In the accompanying note, he wrote, " light! Who doesn't Love Your Name.. Especially when done by someone who sits in the spotlight by his own natural. That night, Priyanka, was my favorite part that you planned for me. Wow babe! What do you do and how do you do it? I am very impressed by all of them.
Video: Priyanka Chopra's husband Nick Jonas looks like a bhangra
Priyanka Chopra moves to dhol at LA home: Priyanka Chopra hosts her manager's birthday party at LA wala home. During this time, he fiercely bhangra on the beat of the drum that Nick Jonas kept watching him. His video is going viral.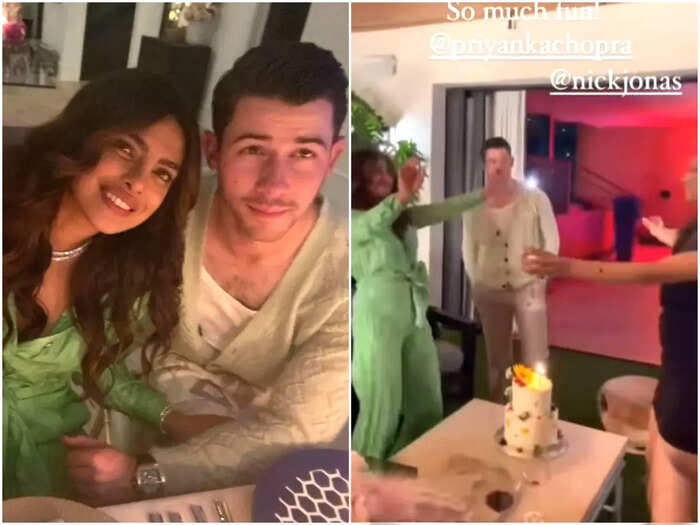 Actress Priyanka Chopra may be living abroad, but her 'desipan' remains intact. She recently held a birthday party for the manager at a Los Angeles (LA) house, where she could not resist listening to the beat of the drum and did bhangra. Watching Priyanka's desi wala dance, husband Nick Jonas kept watching her. This video of Priyanka is very loved by fans and is also going viral on social media.
Priyanka Chopra has not forgotten her culture even while living abroad. They also worship there and celebrate Holi. He recently hosted a birthday party for manager Anjula Acharia. The party took place at his Los Angeles home. No DJs were called here, but drummers. Priyanka's husband Nick Jonas was also seen accompanying her and enjoying the party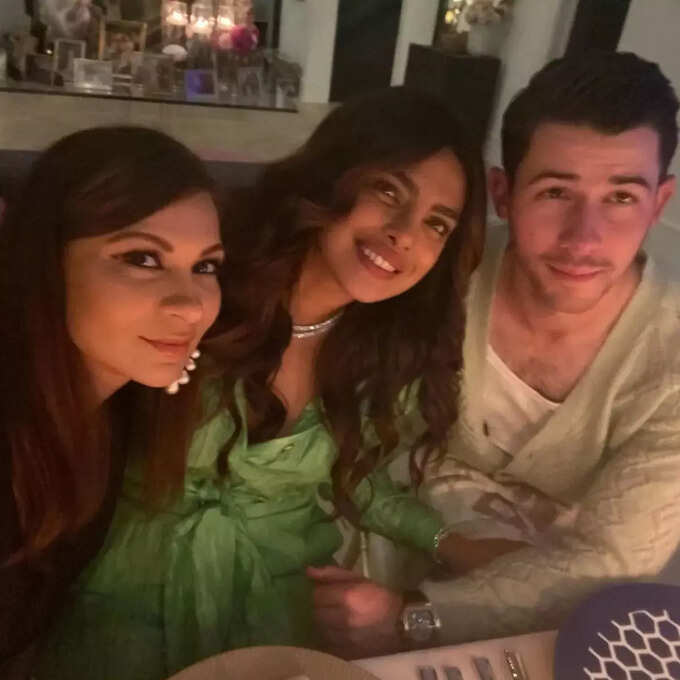 In the video, Priyanka Chopra is seen in a green jumpsuit. She brings a big cake in her hands, then the drum starts ringing. Priyanka can't stop herself and starts dancing while holding the cake in her hand. After that, she starts putting the cake on the table and doing Bhangra. His manager seems to be with him too. Nick looks at the two with great love.
Talking about Workfront, Priyanka is shooting The Hollywood web series 'Citadel' these days. He had shared his photo from the set a few days ago, in which the bruises on his face are clearly visible. However, it was just makeup. Apart from this, he also has a project of Bollywood. She will be seen in 'ji Le Zara' with Katrina Kaif and Alia Bhatt.